VIVA VPR9

Quad cab variant of the facelifted VPR9.
Vehicle Overall Info
Name
VIVA VPR9
Platform
Toyota Tundra
Manufacturer
VIVA Automobiles
Body styles
2-Door Extended Cab

4-Door Quad Cab

Production
2011-Present

(2012-present facelift)

Model Years
2012-Present

(2014-present facelift)

Assembly
Valencia, Venezuela

San Antonio, Texas, USA

Hermosillo, Sonora, Mexico (from 2014)

Rosario, Argentina (from 2014)

Bogotá, Colombia

Successor
none
Predecessor
VIVA LD500
Also Called
VIVA New XtraCargo (Europe)

VIVA VPR9 Sierra (Colombia, Chile, Ecuador, Argentina and Mexico)

Related
Toyota Tundra
The VIVA VPR9 is a full size pick-up truck made by
VIVA
since 2011 as a replacement for the
LD500
.
Pre-Facelift first generation (2011-2012)
Edit
The pre-facelift version was presented in November of 2011, and featured a slightly different styling than the car is based on, the 
Second generation Toyota Tundra
. It was the sucessor of the short lived VP7 and the long-running LD500. The VPR9 used unique LED lighting with what resembles "angel eyes" headlights.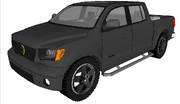 Ad blocker interference detected!
Wikia is a free-to-use site that makes money from advertising. We have a modified experience for viewers using ad blockers

Wikia is not accessible if you've made further modifications. Remove the custom ad blocker rule(s) and the page will load as expected.